A Room of Recommendations
Yesterday afternoon, over on the Clubhouse app, we hosted a room that was all about favorite local breweries. We started out by sharing a couple of our own favorites from the greater DC area and then opened up the floor to anyone else who wanted to share.
We got some great recommendations for breweries and even threw in a few cider houses towards the end. Instead of just keeping that information to ourselves, we thought it would be nice to share it with all of you. That way, if you happen to be near one of these places, you can stop in for a pint.
What is Clubhouse?
We casually mentioned that we got this information from Clubhouse, but some of you may be thinking "Wait, what is Clubhouse?".
The Clubhouse app is a fairly new audio-only social and networking app. At this point, Clubhouse does have millions of users, but we still say it's fairly new because it is still technically in Beta form. Clubhouse is currently only available on iOS devices, so you have to have an iPhone or iPad to participate.
The way Clubhouse works is that users can host "rooms" either by themselves or with a panel of moderators. People can join in a room just to listen, or they have the ability to "raise their hands" and be invited up on "stage" to speak. The format, when moderated well, leads to great conversations about all sorts of topics.
Recommended Breweries and Cider Houses
Since this summer is likely to be full of road trips for so many Americans, we thought it might be fun to show the recommendations we received as driving routes on Google maps. To keep things somewhat reasonable, and because Google will only let you add 10 destinations to one set of directions, we split the country into two sections.
The Eastern US run is a little bit more doable, but depending on how much time you have, either route would be a great road trip. You could even do them in parts and make several trips out of it. Whatever you choose to do with your summer road trips, be sure to hit a few of the breweries on this list if you pass near them. You won't be disappointed.
Eastern US Breweries
The favorite local breweries conversation will always be skewed a bit to the mid-Atlantic region when Jeff and Derrick are both involved, but we got a few great recommendations from others as well. We even threw in a few Cider Houses by request at the end.
Port City Brewing Company – Alexandria, VA
This has been a favorite of Jeff's since he moved to the DC area. They have a great lineup of beers, host annual anniversary parties with a new Colossal beer release each year, and were the 2015 Great American Beer Festival Small Brewing Company of the Year.
Aslin Beer Company – Alexandria, VA
Home to Jeff's current favorite beer, Totally Cannon, Alsin has two locations in Virginia. The original Herndon location is now back open for tasting, but the real star is the beautiful and massive Alexandria taproom.
Brookville Beer Farm – Olney, MD
As Derrick's first recommendation for the room, Brookville Beer Farm stands out not only for their amazing beers, but also for their gorgeous location. Well worth the short trip from the DC area, this is a place that you will be seeing on our social media channels soon.
RAR Brewing – Cambridge, MD
RAR is well known for their extremely popular can releases and their delicious beers. This is a current favorite of Derrick's over in Maryland.
Wasserhund Brewing Company – Virginia Beach, VA
This was perhaps the most exciting recommendation of the hour-long room because not only were the beers and atmosphere of the taproom recommended, but the guy recommending them was actually joining us live from the brewery.
Burley Oak Brewing Company – Berlin, MD
Another great Maryland brewery, Burley Oak has become known for their coveted J.R.E.A.M. series of sours. They're tough to get when they are released and nearly impossible to find afterward, but once you have one, you find yourself craving more.
Ellicottville Brewing Company – Ellicottville, NY
It's not surprising that Ellicottville Brewing Company is a favorite of Erik Coleman. Its background is somewhat intertwined with his. Listen to the podcast episode we did with Erik for a bit more information on that.
Capitol Cider House – Washington, DC
Since we had a request to talk about some top local cider spots, we couldn't go without mentioning Capitol Cider House. They've really stepped up their virtual tasting game during the pandemic with food pairings, tastings of the apples used to make the ciders, and even a cocktail class.
Lost Boy Cider – Alexandria, VA
Another Alexandria favorite, but this time on the cider side of things. With a great variety of cider types and a fun taproom atmosphere, this would be a great stop to add to your Port City and Aslin drinking tour, just outside of DC.
Central and Western US Breweries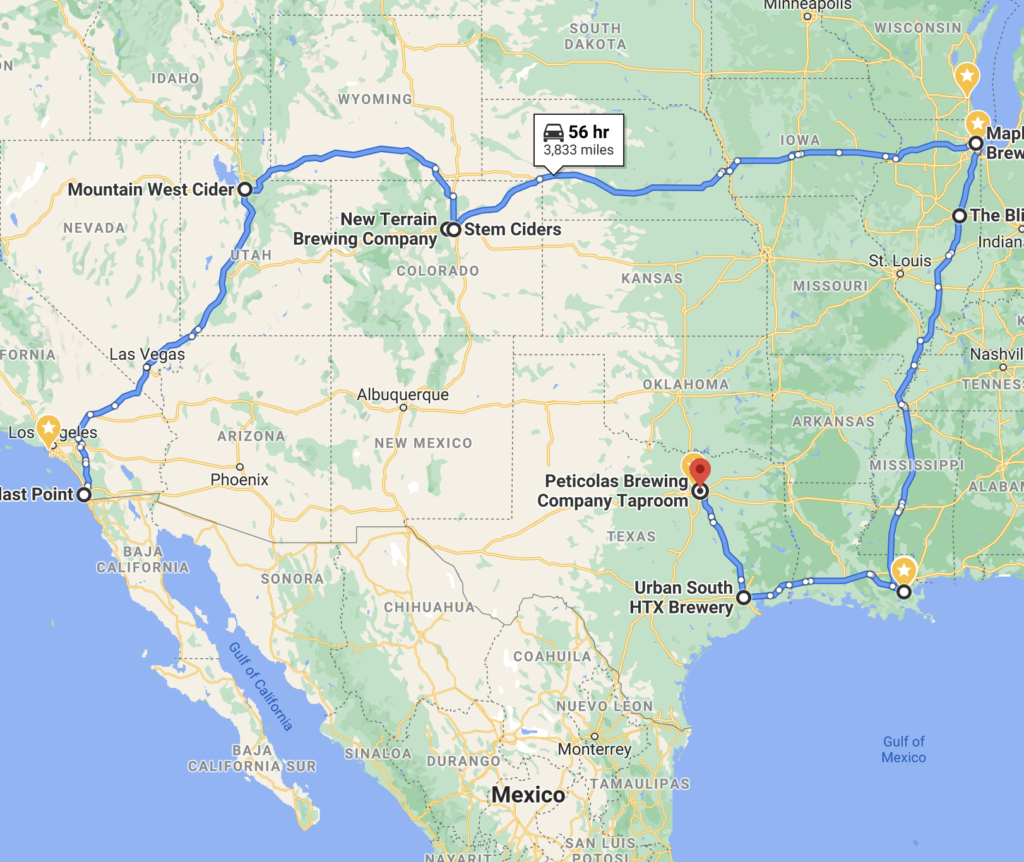 Although this list of breweries is fairly spread out across the country, it is possible to turn this into an epic road trip. This part of the country is where we got our first Cider recommendation, which led to the two from the DC area in the Eastern US list above.
Ballast Point Brewing Company – San Diego, CA
There aren't too many craft beer fans who haven't had a beer from Ballast Point, but visiting their taproom is a different story. A relaxing spot on the California coast, this is a great place to try your favorite Ballast Point beers.
Mountain West Cider – Salt Lake City, UT
This was the first cider house that was recommended and it launched us into the other cider recommendations on the list. The fun part is that this place was recommended by a Salt Lake City local, but she was talking to us and made the recommendation from Hawaii.
New Terrain Brewing Company – Golden, CO
With so many craft breweries in Colorado, it's always good to get some recommendations before you visit. Just north of Denver, this spot in Golden has a wide variety of beers on tap and a fantastic taproom to taste them in.
Brewery Rickoli – Wheat Ridge, CO
They may take all of the gluten out of their beers, but they certainly don't remove the flavor. The location may not be the best, but their beer is certainly something you will go back for, especially for those who need something gluten-free.
Stem Ciders – Denver, CO
Need something with a little less hop flavor when you're visiting Denver? Stem Ciders is a place you don't want to miss if you like those craft beverages made from delicious apples.
The Blind Pig Brewery – Champaign, IL
A great brewery that also runs a couple of bars in this college town, The Blind Pig is the perfect place for a great beer in Champaign,
Maplewood Brewery & Distillery – Chicago, IL
This was recommended by a former Chicago resident who knows the owners. It was then seconded by Erik Coleman, guest of our most recent podcast episode. He hadn't been there yet, but has tried their beers and thought they were great.
Urban South Brewery – New Orleans, LA and Houston, TX
We hosted a large miles and points meetup at Urban South in New Orleans back at the beginning of 2020 and their beers and service were fantastic. They have since opened a second location in Houston.
Peticolas Brewing Company – Dallas, TX
With a multiple floor taproom right in downtown Dallas, Peticolas is often recommended as one of the top spots to visit in a sprawling city with a ton of small breweries.
A Room Full of Travelers
Overall, the list of breweries and cider houses that we came up with was pretty impressive. We had twenty to thirty people in and out of the room throughout the hour, and many of them chose to participate and add their local favorites.
One interesting thing that we noticed during the conversation was that many of the breweries mentioned had been visited by more than one person in the room. Since so many of our Clubhouse followers are heavy travelers, it wasn't odd for a person on the West Coast to have been to some of the breweries on the other side of the country.
With such a wide range of locations of both participants and breweries, it was nice to get confirmations from others on so many of the recommendations mentioned. These breweries must be doing something right.
Join Us Next Time
Our plan going forward is to host a Miles & Pints room on Clubhouse once every week. We will do our best to vary the focus and plan to alternate between Travel and Beer topics every other week. If you want to join in on the conversation, simply search for Miles & Pints on the Clubhouse app. Follow @jeffbrownson and you will see notifications every time we schedule a new room.
Next time we do a recommendation room, we'll be sure to share the findings here as well. In the meantime, check out some of these breweries and cider houses if you happen to be nearby. Let us know what you think, and as always, tell them that Miles & Pints sent you.
Cheers!